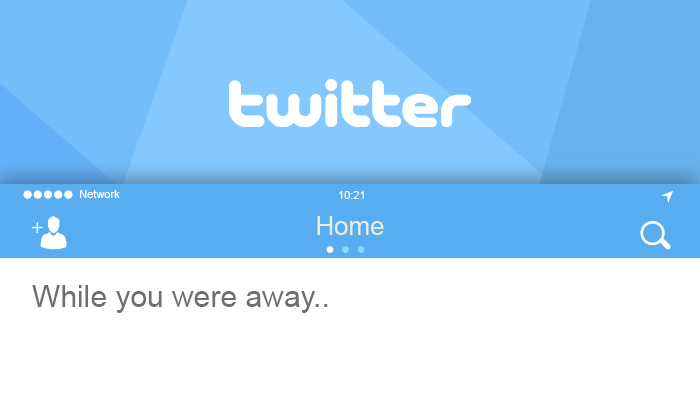 Twitter Unveils "While You Were Away" Feature; Shows Users Notable Tweets they Might have Missed
In November 2014, Kevin Weil, Twitter's Vice President of Product, announced some of the new changes users should expect in 2015. "We're experimenting with better ways to give you what you come to Twitter for: a snapshot of what's happening. We can use information like who you follow and what you engage with to surface highlights of what you missed and show those to you as soon as you log back in or come back to the app," said Weil in the official Twitter blog announcement.
Making good on this promise, subsequent reports from The Guardian, Business Insider, and TechCrunch indicate that Twitter has begun rolling out its new "while you were away" feature. This recap feature alerts users to noteworthy tweets they might have missed since their last logon to their timelines. [See Figure 1 below]
The "while you were away" feature pins what Twitter considers to be the best tweets to the top of timelines based on the accounts users follow and the type of tweets they engage with the most. While no precise criteria has been given for what defines a "best tweet", it could very likely range from factors such as number of retweets, favorites, or replies a single tweet has gotten.
The Guardian was quick to point out that the "while you were away" feature functioned rather similarly to Facebook's News Feed. Facebook's News Feed presents status updates, posts, and shares in an algorithmically ranked manner, not necessarily in chronological order. The Twitter timeline was originally chronological, and changes like the "while you were away" feature were likely introduced to increase engagement among existing and new users, as well as combat Facebook's dominance in social media.
Initial reactions to the new feature seem to be divided. As noted by The Guardian in Figure 2, some users welcomed the new feature, some disliked it, while others did not understand its purpose. Twitter's slow "transformation" into Facebook has already been met with disdain from long time users, who feel that the new algorithm interferes with their carefully curated timelines. It would be interesting to see how more users would react to a new feature that bears the most striking similarity to Facebook yet.
With Twitter continuing to struggle against Facebook in expanding its subscriber count, making the platform easier to use and less daunting is the most convenient means of attracting new users and increasing engagement, even if it means emulating key features from a competitor.

The Marketing Digest Writing Team provides the content you need to keep you well-informed on the latest developments and trends in the digital marketing industry.

Latest posts by Marketing Digest Writing Team (see all)
Comments
comments