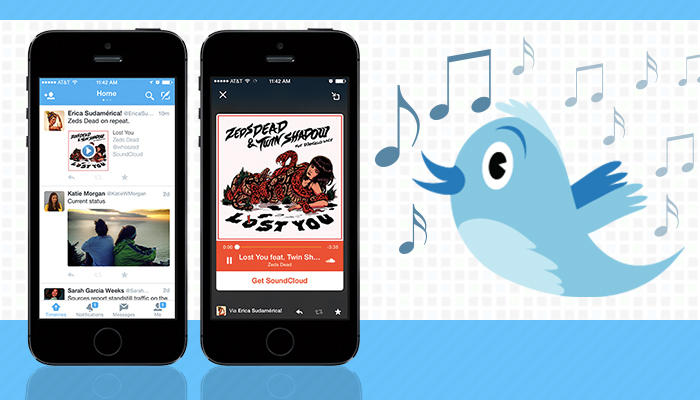 Twitter Audio Cards Plays Music, Podcasts, & Other Audio Content on Users' Timelines
Today, Twitter announced a new feature—called Audio Cards—which would allow users to listen to audio files while browsing through their timelines. "Throughout your listening experience, you can dock the Audio Card and keep listening as you continue to browse inside the Twitter app," states Richard Slatter, product manager at Twitter.
The first of these partners happens to be the online audio distribution platform, SoundCloud, with Slatter affirming that there are definite plans to make Audio Cards more widely available to future partners.
Figure 1 above showcases how Twitter users can access the audio stream. As of press time, iTunes has also been integrated into the new feature. However, Audio Cards has only been activated for one track on iTunes—the first song from the Foo Fighters' new album.
iTune's integration into Twitter's new Audio Card feature will most likely facilitate one-click purchases from iTunes in the future. With SoundCloud announced as the first official partner, a few musicians have already taken advantage of the new service. Tweets from artists like Chance the Rapper clearly demonstrate that Audio Cards are an effective means of promoting new audio content.
Slatter also took note of influential media producers in the official announcement, stating that content hosted by the latter on Twitter can now be easily accessed. Twitter users can listen to podcasts, music, and other audio content from SoundCloud partners like astrophysicist Neil degrasse Tyson and filmmaker Kevin Smith. The White House also has an official SoundCloud account that hosts numerous speeches, addresses, and even some live performances from the Obama Administration.
The introduction of Audio Cards opens new doors of opportunity for content creators who want new audiences to discover their work. As the new feature becomes more widely available, businesses and online marketers can also take advantage of Audio Cards, and showcase their content to new audiences.
Audio Cards is now available on both the iOS and Android version of the Twitter app.
What's your take on this new feature from Twitter? Can it be used as an effective marketing tool? Let us know what you think in the Comments below.

The Marketing Digest Writing Team provides the content you need to keep you well-informed on the latest developments and trends in the digital marketing industry.

Latest posts by Marketing Digest Writing Team (see all)
Comments
comments