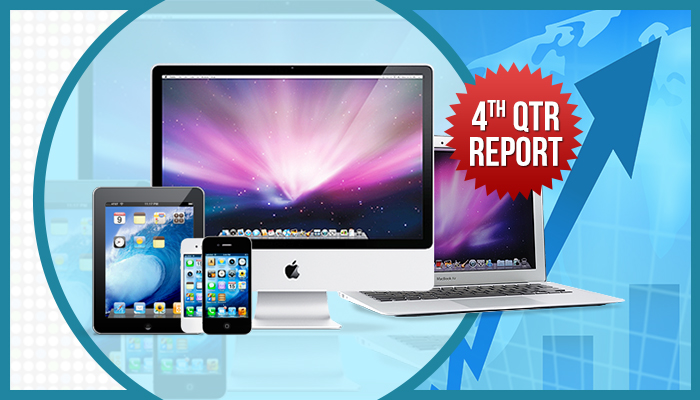 Apple's Q4 2014 Revenue Soars to Record High of $42.1B
Apple dropped its fourth quarter fiscal results today, announcing that the company had achieved an unprecedented quarterly revenue of $42.1 billion and a pure profit of $8.5 billion, equivalent to $1.42 per diluted share. [See Figure 1]
These figures surpass Apple's $37.5 billion fourth quarter revenue in the same quarter last year. Moreover, Apple acquired gross margins of 38% in Q4 this year, compared to 37% gross margin in the year-ago quarter. The company said that sales driven by the new iPhone, iPad, and Mac innovations contributed considerably to this quarter's revenue growth. Apple also revealed that 60% of their overall revenue came from transactions outside the U.S.
Tim Cook, Apple's CEO, noted that the company's fiscal year was "one for the record books," having released a series of new products in their line, like the iPhone 6 and iPhone 6 Plus. "With amazing innovations in our new iPhones, iPads and Macs, as well as iOS 8 and OS X Yosemite, we are heading into the holidays with Apple's strongest product lineup ever," Cook said in a statement. He also expressed his fervor for the release of the Apple Watch and "other great products and services" waiting to be unveiled in 2015.
Apple's CFO, Luca Maestri, recognized their "strong business performance" as the driving factor for their 20% EPS growth and $13.3 billion cash flow from operations in the recent quarter. She said, "We continued to execute aggressively against our capital return program, spending over $20 billion in the quarter and bringing cumulative returns to $94 billion."
The company also hinted new plans come 2015, guiding for $63.5 billion and $66.5 billion in revenue in the first quarter, with gross margin between 37.5% and 38.5%. Operating expenses is estimated to be fall between $5.4 billion and $5.5 billion, with 26.5% tax rate.
For more information on Apple's Q4 fiscal results, read the company's official press release. Apple will also provide live streaming about this topic via conference call beginning 2:00 p.m. PDT today.
What are your thoughts on the figures released by Apple for their Q4 financial results? Do you think 2015's results can surpass this year's record?
Hit us up with a comment!

The Marketing Digest Writing Team provides the content you need to keep you well-informed on the latest developments and trends in the digital marketing industry.

Latest posts by Marketing Digest Writing Team (see all)
Comments
comments