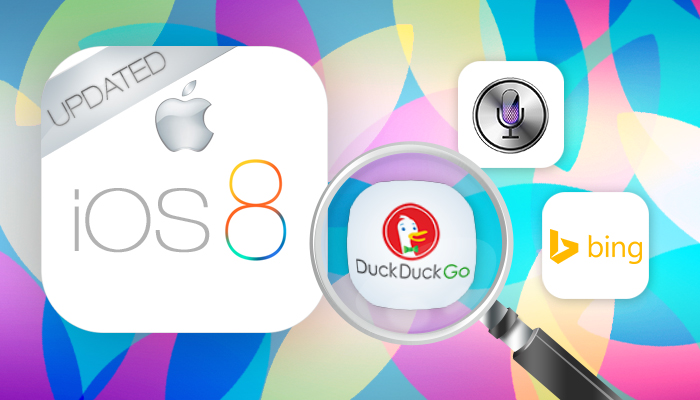 Apple Enhances iOS 8's Search Features with Bing Results, DuckDuckGo, and Hey Siri
Apple is set to release iOS 8 on September 17, 2014, with improvements to search features and more. Labeled as "the biggest iOS release ever" by Apple, it aims to "create the most natural, most useful experience" for both users and developers.
Three improved search features can be found on iOS 8: Bing Web Results in Spotlight, DuckDuckGo in search preferences, and the new voice search feature called "Hey Siri."
Bing Results in Spotlight
With Bing results, users are now allowed to do more with iOS 8 Spotlight. Users are now provided with suggestions from Wikipedia entries, places nearby, and trending news. Before Spotlight answers a user's query, "it intelligently considers things like context and location." As shown in Figure 1 below, "Results from Bing" are displayed under the web results.
DuckDuckGo as a Default Search Option
DuckDuckGo has also been added as a default search option for users, along with Google, Yahoo, and Bing. In early June of this year, Apple announced the inclusion of this private search engine into its mobile operating system. [See Figure 2]
"Hey Siri" Voice Activation
With the aim of providing better accessibility, Apple has added voice activation to Siri. Users will only have to say "Hey Siri" to begin voice search without pressing the home button. Unlike Okay Google, however, the device needs to be connected to a power source to perform a voice search.
Other improved iOS 8 features include:
Family Sharing – Family members can share Apple purchases and get updated photos, calendars, and locations via the iCloud.
App-to-App Communication – Different health and fitness apps will be able to work together through HealthKit. All data from apps will be collected in an easy-to-read dashboard.
Apple Device Connections – Content can be carried over to other Apple devices.
Keyboard Options – This feature will provide appropriate suggestions to complete sentences based on context.
iCloud Drive – Users can work on any file, anywhere, on the selected Apple device.
Photo Management – New search features were created for easier photo management.
Notification Management – Users can deal with notifications without leaving an app, even if it's a notification from another app.
Messages – Videos, voice messages, and multiple photos can be easily sent at once through the Messages app.
Additionally, iOS 8 is set to be compatible with all current Apple devices, including the upcoming iPhone 6.
What do you think of Apple's iOS 8? Do you think these enhancements will be beneficial to users? Share your insights by adding your comments below.

The Marketing Digest Writing Team provides the content you need to keep you well-informed on the latest developments and trends in the digital marketing industry.

Latest posts by Marketing Digest Writing Team (see all)
Comments
comments