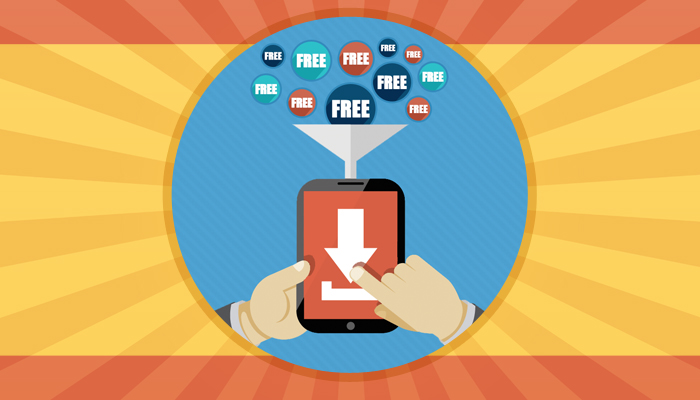 Survey: Ad-Supported Apps Preferred Over Paid & Freemium Versions
A recent survey showed that consumers are more likely to download apps supported by ads rather than pay for them or adapt the "freemium" model. The survey, conducted by analytics firm Zogby and sponsored by the Digital Advertising Alliance (DAA), took a look at public opinion regarding the different kinds of apps being offered on either the iTunes store or Google Play, and whether or not customers would change their mind if certain tweaks were made to the business model.
As seen in Figure 1 above, users are more likely to download apps that are free or low-cost, but are supported by in-app ads (35.7%). This can be attributed to a "try before you buy" mentality that lets users determine if they like apps they've downloaded at no monetary cost. The freemium model with in-app purchases followed suit (10.1%), while very few would buy an app right away. The freemium model could be gaining traction due to many apps being games that are otherwise free, but offer players the chance to purchase premium items with real-money transactions.
As noted, the "try before you buy" mentality is what leads people to lean towards getting free or low-cost apps that are ad supported. Surprisingly, as seen in Figure 2, not many of them would be willing to pay for any of the apps they've downloaded if they were required to. In fact, 46.4% stated they wouldn't download any of their free apps again if they were required to pay for them. While some users did seem to enjoy a few of their apps enough to justify a purchase, the majority still seem satisfied with their product remaining free and being ad-supported.
Other notable findings demonstrate that users care about transparency and how their data is being controlled in their apps. The Zogby survey interviewed 1,015 adults in the United States from October 3rd to the 5th of this year.
How do you prefer to get your apps? Would you also be willing to switch from ad-supported apps to paid versions? Let us know in the Comments below.

The Marketing Digest Writing Team provides the content you need to keep you well-informed on the latest developments and trends in the digital marketing industry.

Latest posts by Marketing Digest Writing Team (see all)
Comments
comments