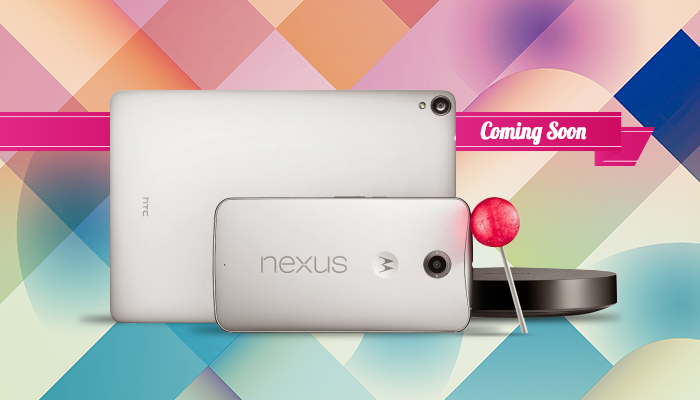 Android L Announced; New Nexus Smartphone and Tablet Coming Soon
The next major update to Android has been unveiled, and Google is all set to roll out its latest version. Announced as Lollipop or simply L, it will be the fifth iteration of the operating system that Google calls its "largest, most ambitious release". First previewed back in June during Google's I/O conference, cross-device sharing seems to be the focal point of Lollipop, with Google reiterating Android's original purpose, that it was "designed to be shared."
According to Sundar Pichai—SVP for Android, Chrome, and Apps—Lollipop was designed with flexibility in mind and for an environment where people are looking at different screens every day. With that in mind, one distinct feature of Lollipop is how it seamlessly connects data on all the user's synced devices. Whether it's songs, pictures, or recent searches, Lollipop makes it easier for users to pick up where they've left off.
As Android also looks to introduce smart watches and Android Wear in its lineup, it's certainly advantageous if all compatible devices could be synced. As seen in its recent ad campaign, Google is focusing on its "Be together, not the same" tagline. Moreover, Google stresses that its latest innovations and creations were done in collaboration with OEMs, using feedback from loyal clients.
If that wasn't enough, Google also announced new versions of their Nexus tablet and smartphone. As seen in Figure 1 above, the Nexus 6 will be the latest in their smartphone line, boasting a 13 megapixel camera, while the Nexus 9 tablet's uniquely sized 9 inch screen puts it in a class of its own. Joining them will be the new Nexus Player that Google calls "the first device running Android TV."
Developed in collaboration with Asus, it will allow people to not only stream music and videos straight to their television, but can also function as a game console. Users will be able to play mobile games, both on their phones and televisions, with a gamepad thanks to the Nexus player. To top it off, Google has stated that these will be the first devices to come preloaded with Lollipop.
With the launch devices still only available for pre-order, Lollipop is still currently under a developer preview build as of press time and is not available to the public. The Nexus 9 is slated for release on November 3, while the Nexus 6 can be expected within the same month. Google has also stated that "in the coming weeks," other devices in the Nexus family will be eligible for the Lollipop upgrade.
Are you excited for the newest version of Android? Will you be getting any of the new Nexus products? Let us know in the Comments below.


The Marketing Digest Writing Team provides the content you need to keep you well-informed on the latest developments and trends in the digital marketing industry.

Latest posts by Marketing Digest Writing Team (see all)
Comments
comments