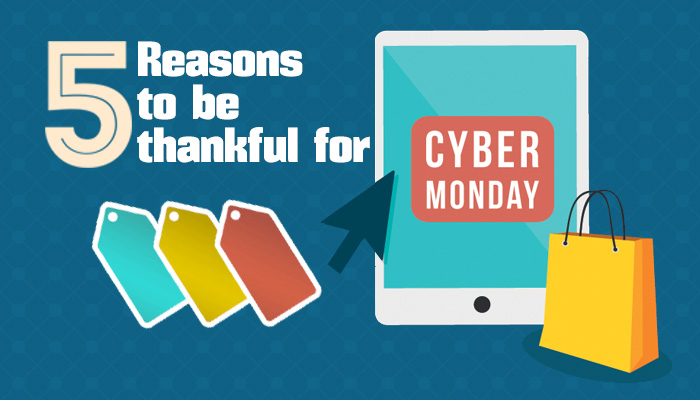 5 Reasons to be Thankful for Cyber Monday
 1. You don't have to get up early. After all, you don't have any shopping crowds to beat!
Cyber Monday Shopping Tip:
Set up a budget before buying online. While you have the freedom to wake up late, you need to allot time to figure out your budget limit before shopping.
2. You can go shopping from the comfort of your own home. All you need is a laptop, a stable Internet connection, and good food in front of you.
Cyber Monday Shopping Tip:
Do your research on shops and prices. You can also do research for this while relaxing at home.
3. You don't have to deal with long shopping lines. You won't lose your patience waiting in slow moving lines.
Cyber Monday Shopping Tip:
Gather your coupons for special offers and discounts. You don't have to stress yourself on costly items that way.
4. You can shop all you want without having to carry everything by yourself. Because what you ordered will more likely be delivered right to your door.
Cyber Monday Shopping Tip:
Take advantage of free shipping. Yes, free shipping is your ultimate goal!
5. Most of all, you can wear whatever you feel like! If you don't feel like doing it, you do not have to wear pants to go online shopping.
Cyber Monday Shopping Tip:
Be sure to check out return policies. Okay, so you may not have to be picky on what you want to wear, but you need to be fully informed about return policies. Some shops are strict with their terms and conditions while some aren't, so it's better to know these before spending on holiday goodies.

The Marketing Digest Writing Team provides the content you need to keep you well-informed on the latest developments and trends in the digital marketing industry.

Latest posts by Marketing Digest Writing Team (see all)
Comments
comments